Human-Driven Multilingual Customer Service: Why Humans Still Matter
27-Oct-2023
While machine translation has its place, especially for speed and volume, it's crucial to recognize that true customer satisfaction often hinges on the ability to connect on a deeper, emotional level. With our BAB Middle East team of experts, plus our app, we can help you elevate your CS game! Talk to us today! #BabMiddleEast #CustomerService #Localize #Translate #BabMeApp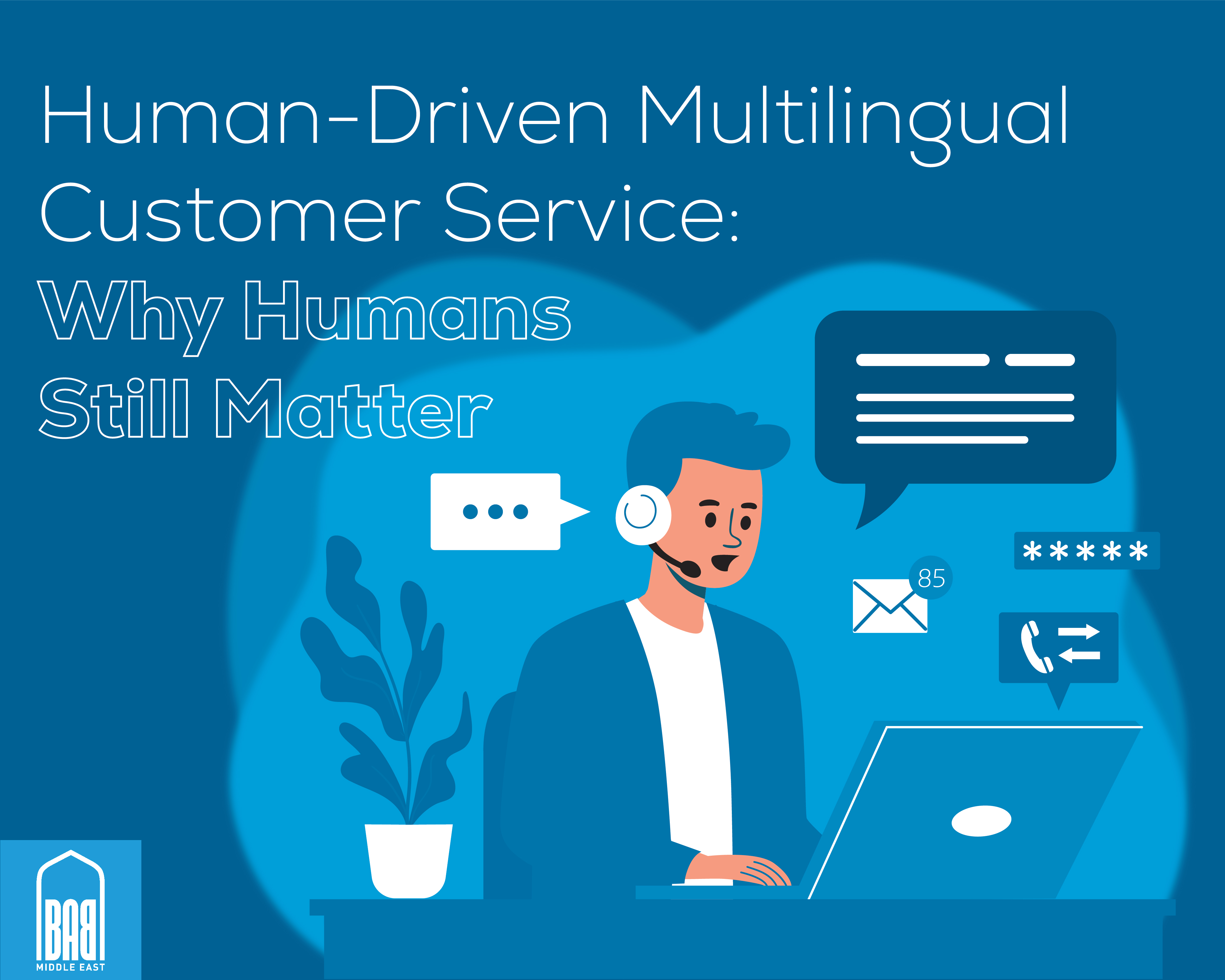 Amidst our fast-paced digital age, where automation and AI claim center stage, the realm of customer service closely follows suit. However, within the realm of chatbots and algorithms, it's crucial to recognize the enduring value of human-driven approaches, particularly in the context of multilingual customer service, as they deliver long-term benefits that simply can't be overlooked.
Machine Translation X Human Translation>
The rise of machine translation has been nothing short of revolutionary. These algorithms can translate vast amounts of text quickly, and they're often contextually and culturally relevant. Yet, where they often fall short is in delivering emotionally appropriate content. While they can translate words, they can't fully grasp the nuances of human emotions, humor, or cultural sensitivities. When it comes to customer service, especially in multilingual environments, the human touch remains invaluable.
Human translation, on the other hand, represents the road less traveled. In an era where speed often takes precedence, it's easy to overlook the role of human translators. However, they bring a depth of understanding and cultural awareness that machines simply can't match. When addressing customer inquiries or resolving issues in multiple languages, the ability to convey empathy and understanding is paramount. Human-driven multilingual customer service ensures that the tone and emotional resonance of your communication are accurate and culturally sensitive.
Translation Pricing Myths>
One common misconception is that human translation is prohibitively expensive compared to machine translation. While it's true that human translation can be pricier, it's essential to consider the long-term benefits. Accuracy and cultural sensitivity in customer service can lead to increased customer satisfaction, brand loyalty, and positive word-of-mouth. These intangible gains often far outweigh the initial cost difference. Additionally, the cost gap is narrowing as translation technologies advance. Take for example our new App where it provides you with AI-powered and only human-approved translations.
Find it here: 🍏 t.ly/ZFUDw 📲 t.ly/zM9c2
In conclusion, the long-term benefits of human-driven multilingual customer service are clear. While machine translation has its place, especially for speed and volume, it's crucial to recognize that true customer satisfaction often hinges on the ability to connect on a deeper, emotional level. With our BAB Middle East team of experts, plus our app, we can help you elevate your CS game!
Talk to us today!
#BabMiddleEast #CustomerService #Localize #Translate #BabMeApp