It's a small
world
when we
understand each other.
BAB ME
Experienced.
Efficient.
Economical.
Languages are complex. And our team has spent years mastering them. From detailed translations to creative copywriting, we work with a network of native speakers who understand various dialects and industries. You'll never have to struggle with a medical writer trying to create copy for an automotive brand. From Arabic to French, Mandarin and beyond, our talent pool of experienced linguists spans far and wide.
Since we first opened our doors in 2016, BAB ME has worked towards maintaining efficiency in both turnaround and price. That's why we have plenty of resources at hand to meet tight timelines at competitive rates.
We offer both, translation and copywriting services depending on your communication needs. Either way, quality always comes first – which is something we ensure by sourcing the right talent for the job.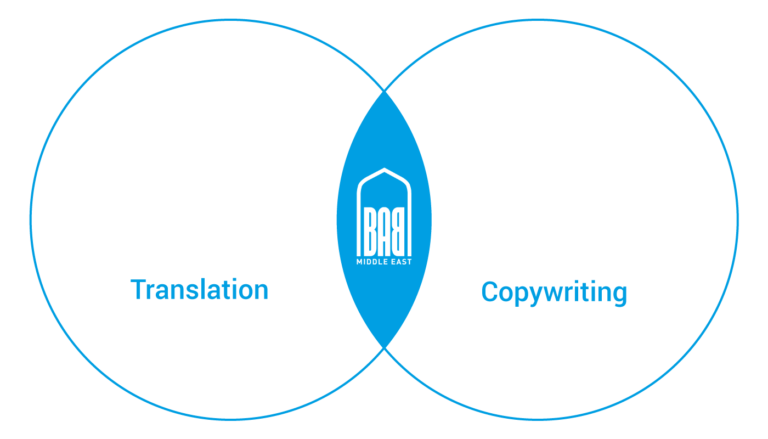 Translation
Professional and accurate translation of existing documents.
When it comes to translation, accuracy is key. That's why our network includes translators and editors with specialized experience from various industries. For example, if your communication is for the Healthcare industry, you can be assured that an expert from the same field will be working on it.

Translation is the right choice when interpreting existing, straightforward content, like:
Technical & Legal Documents
Copywriting
Crafted by Humans. Creative & Cost Effective.
Life is too short for an average copy, always look for the best! Great job ;) You've reached our creative Copyshop!
Our writers read your mind and craft bespoke copies to provide you with a content that reflects your exact message and shines among competition.
Fill the form to request content pieces for all platforms in:
AI Powered Translation
Edited by Humans. Quick & Affordable.
Next to nothing will be lost in translation when you combine the speed of AI and the power of the human mind.
Lucky you, we have found the right combination of Artificial and Human Intelligence to provide you with speedy and accurate translations.
Fill the form below to request translations between the following language combinations
Interpretation
Fulfilled by Humans. Eloquent & Elegant.
Worried your conferences might sound like the Tower of Babel? Worry not! All you need to do is hire our professional interpreters to ensure your speakers and attendees are all on the same page.
Our simultaneous interpretation services cover English and French into Arabic and vice versa; and are delivered by our proficient experts.
Fill the form below to request our interpretation services.
Proofreading
Completed by Humans. Quick & Accurate.
While annoying online, grammar sleuths make the difference between high-quality and flawed content. Don't let mistakes cramp your style!
Entrust your content to our proofreaders who will thoroughly vet it in every aspect and deliver back flawless.
Fill the form below to request proofreading content in the following languages:
LANGUAGES COVERED
English
French
Arabic
Mandarin
Chinese
Russian
Spanish
Farsi
HOW WE WORK
Over the years, we've outlined 4 simple steps to keep every project on track and top-notch.
01
Meet your project guardian
A project coordinator is assigned to each client to understand the brief and oversee the quality of work from start to finish.
02
Set the tone
We dig in to understand the tone and key terms that are specific to the client's company and industry. This helps us maintain a consistent tone of voice and accurate language across the board.
03
Get to work
Native-speaking linguists are assigned to the brief and get to work. First, a professional translator converts the text, then hands it over to an editor to ensure the overall flow and content is well-conveyed.
04
Final check
After cross-checking the original text with the new copy, a proofreader reviews the document one last time before sending it off.
GET IN TOUCH
You can find us at Silicon Oasis in Dubai, UAE or around the world, online.
Our office hours are 9:00am to 6:00pm GST, from Sunday to Thursday.
BAB MIDDLE EAST
FXD-G-041 – THUB 2
Dubai Silicon Oasis
Dubai – UAE